Mbappe explains how his ego makes him 'topple mountains' by convincing himself he's better than Messi and Ronaldo.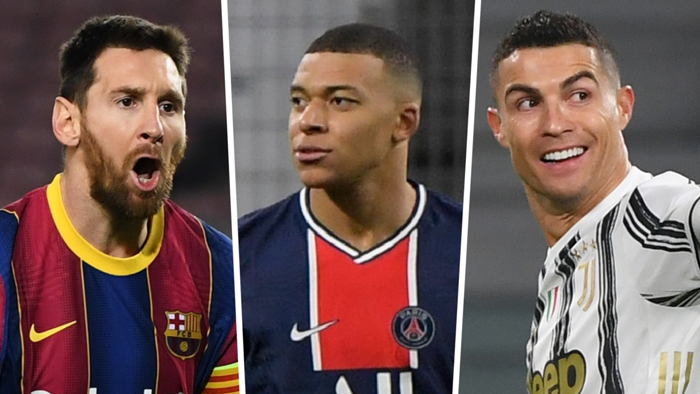 The Paris Saint-Germain forward claims that his arrogance has helped him grow into the player he is now.
After a meteoric rise to prominence at Paris Saint-Germain over the past four years, Mbappe has been tipped as the man to succeed Messi and Ronaldo as the best player in the world when they hang up their boots. As a self-motivation ploy, the 22-year-old claims he already rates himself higher than the Barcelona and Juventus striker, citing his conviction that having an arrogant streak is necessary if you want to reach the top of the game.
When addressing the value of having an inflated ego, Kylian Mbappe revealed that he tells himself he is stronger than Lionel Messi and Cristiano Ronaldo before games.


What has been said so far?
"Is it the ego? Of course, it's crucial because no one else can drive you while you're in the weeds "Mbappe revealed to RMC Sport. "You must also persuade yourself that you are capable of destroying mountains. "People don't understand vanity, but no one can come to your house and tell you that you should do it if you are sick. It's just you and your frame of mind. It's just the two of you. You must remind yourself that you are worthy of great achievements.
"Every time I walk onto a field, I tell myself that I'm the best, but I've played on fields with Messi and Cristiano Ronaldo." They are better players than I am, and they have accomplished much more than I have. But I still tell myself that I'm the best in my mind because that way you don't set limits on yourself and you want to give your best." "Of course, sometimes people don't understand," the PSG talisman continued, "because I believe there is maybe also this barrier that is built in relation to this issue, where one does not really clarify what the ego is."
"People's egos can be as easy as not giving a friend a penalty or getting a higher salary than a rival team's player. It isn't just that; it is also in the planning. To exceed yourself is a personal thing; it goes far beyond the shallow act of saying'me, me.' However, I believe there is a lot to be said about it."

What does Mbappe have in common with Messi and Ronaldo?
Mbappe has also accomplished more in his first six years as a professional than most players do in their entire careers. The France international began his career at Monaco before joining PSG in 2017. He has since won ten domestic titles, including four Ligue 1 titles, and has scored 150 goals in all competitions.
He's also a World Cup winner, having helped France win the tournament in Russia three years ago, an accomplishment that Messi and Ronaldo have yet to equal for Argentina or Portugal. Messi and Ronaldo, on the other hand, have shared 11 Ballon d'Ors over the last 12 years, with the former becoming Barca's all-time leading scorer and the latter being inducted into Real Madrid's hall of fame for the same reason.
Mbappe has a long way to go before he can be compared to two of the greatest players of all time, but if he succeeds on his current path, he might be a candidate for the 2021 Ballon d'Or, which would be a big step in the right direction. In 2020-21, how has Mbappe done for PSG?Mbappe's impressive results in the front row have helped PSG compete for the Ligue 1 title and the Champions League once more this season. To date, the France international has scored 30 goals in 36 games while also assisting on nine others.
---
RECOMENDED