The official videos of the esacped owerri inmates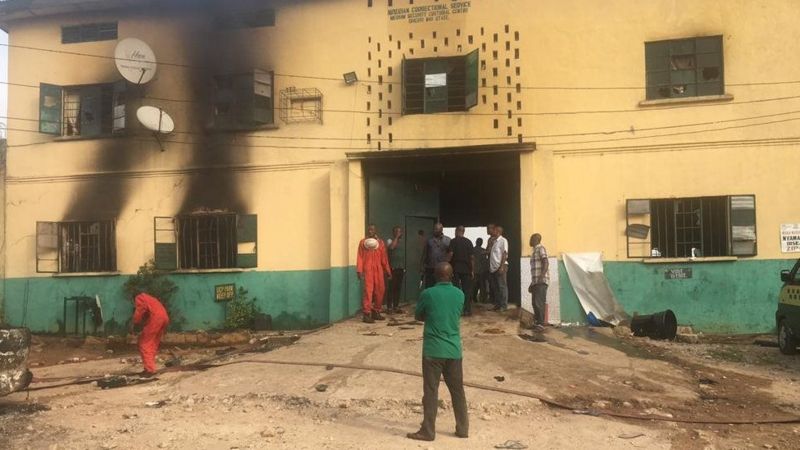 ---
RELATED
The hoodlums have released almost all of the criminals kept in the command's State Criminal Investigation Department.
"Preliminary investigations have revealed that the attackers, who came in large numbers with sophisticated weapons such as General Purpose Machine Guns (GPMGs), Sub-Machine Guns (SMGs), AK49 rifles, Rocket Propelled Grenades (RPGs), and Improvised Explosive Devices (IEDs), are members of the proscribed Indigenous People of Biafra (IPOB)/Eastern Securitization Forces," the IGP said in (ESN).
"Attackers attempting to gain entry to the Police armoury at Headquarters were repelled and prevented from breaking in and looting the armoury by Police operatives on duty who repelled the attackers and prevented them from breaking in and looting the armoury. "At this stage, the armoury is full! Similarly, aside from a police constable who received a minor bullet wound on his shoulder, the police suffered no human casualties," the statement read in part. 'Imo Attack – IGP Deploys Security Reinforcement Squads, Establishes Special Investigation Team (SIT)' read the statement.
The IGP also ordered the state's Commissioner of Police and a new Special Investigation Team "to conduct comprehensive inquiries into the incident with the aim of apprehending and prosecuting the perpetrators." "The IGP has enjoined leaders in Imo State, the South-East, and other parts of the country to speak out against the ongoing violence and criminality, describing the deliberate and criminal assault on security personnel as an attack on the soul of our nation. "The IGP urges people to provide valuable information to the police and other security agencies that will aid in identifying and apprehending criminals.
---
RELATED